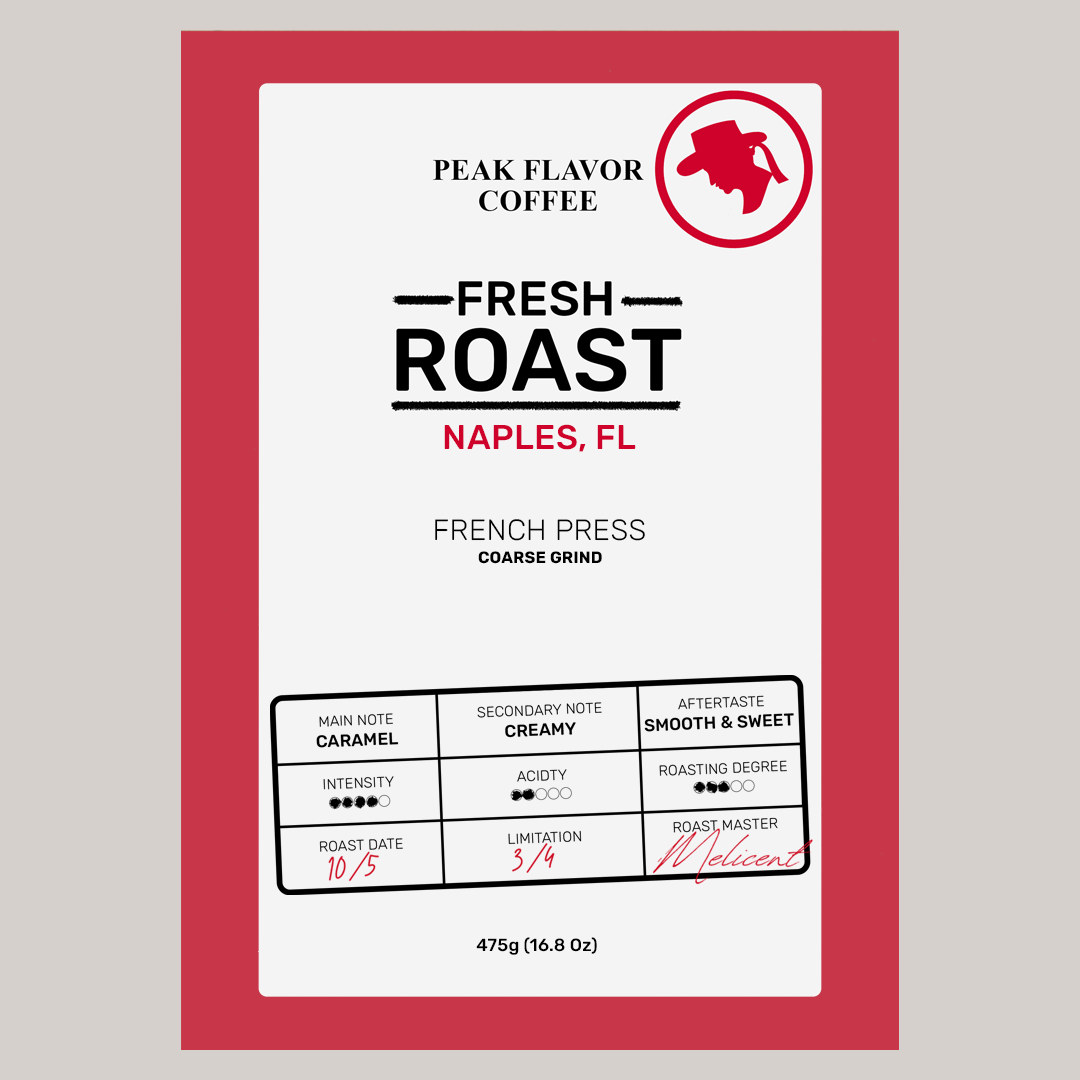 Coffee for French Press - Subscription 2x475g/95 cups
📦 Free Shipping from $24.90
We Craft Coffee for French Press Aficionados. French press brewing is unique. So, we craft coffee specifically for French Press by slow-roasting a naturally sweet bean blend for more caramelization to match French press steeping. We grind with precision, so you can unlock the secrets of French Press Coffee at Peak Flavor. Subscribe & Join our Concierge Coffee Club. Redeem rewards and get 15% savings with every purchase.

Grocery store coffee might be convenient but often lacks quality and tastes bitter or sour.
So, what is the right coffee bean blend for great French Press?
Our custom blend for French Press includes 85% Zero-Defect Arabica and 15% Strictly High Grown Robusta coffee beans, sourced from mountain plantations in the highlands of Brazil, Honduras, and Vietnam.
Only at altitudes >2600m do coffee beans grow dense enough to contain more natural sugars for sweeter French Press coffee. Average density of our beans is >430 mg/cm3. For natural sweetness, our French press beans contain >4% sucrose and >0.5% Fructose at minimum.
Robusta beans contain more natural coffee oils and more caffeine than Arabica beans, which make them perfect for rich and creamy French Press, especially in the morning.
Our coffee is 100% organically grown and fairly traded.
Large-scale, industrial coffee roasts from famous brands in the grocery store may be fast and cheap, but they often brew bitter or burnt French Press coffee.
So, what is the best roast profile for French press coffee?
For authentic French Press coffee, we use slow, small-batch coffee roasting to develop natural sweetness into maximum caramel, vanilla and honey flavors.
Our custom roast for French Press lasts >12 minutes. We drop well past first crack at about 220 degrees Celcius. We extend the browning phase of our roast for maximum caramelization.
Most French Press Coffee Lovers prefer Medium-Dark or Dark Roasts. We refrain from using blond or light roasts for French Press because shorter roast cycles do not have enough time for caramelization.
French press steeping is unique and requires precision coffee grinds to extract best taste. Tiny variations in grind size may result in terribly bitter coffee taste due to over- or under-extraction.
So, what is the right grind size for French Press coffee?
That's why we recommend using our pre-ground precision grinds for French press coffee. we grind coffee for French press with >98% precision to 1050 microns, the perfect fit for your French Press.
It's not possible to grind with this precision for with standard home coffee grinders. That is why we recommend using our pre-ground French press precision grinds.
By the time, you brew French press with a brand from the grocery store , your roast is more than 120 (!) days old. Bitterness in coffee develops as a result of oxidation. You taste bitterness when your roast is more than 20 days old. No wonder why most grocery store French press needs sugar or flavoring: to hide the bitterness of an old roast.
We only roast to order and ship out the next day, so you can indulge in fresh roasted French Press coffee, just when it reaches Peak Flavor. You'll notice your roast is fresh by the coffee smell in your mail box! Its delicious beyond description.
Coffee needs about 7 days to de-gass and develop Peak Flavor. With our fresh roast delivery guarantee, we are certain you'll get your order at home before it reaches Peak Flavor.
How We Craft Coffee for French Press
Select Sweet Beans
We select naturally sweet coffee beans to fit French Press steeping.
Slow Roast
We slow roast in small batches to develop natural sugars into caramel, honey & vanilla flavors.
Precision Grind
We grind with precision, so your French press extracts naturally sweet coffee without bitterness.
Fresh Roast Delivery
We roast to order & ship the next day. We deliver when your coffee order reaches Peak Flavor
Peak Flavor Coffee
Sweet, Mild & Creamy
Notes & Aromas
Caramel, Honey & Vanilla
Coffee Crafted for French Press
With the right coffee, French press steeping dissolves and extracts unique and rich flavors unlike any other coffee maker. But only if you use the right coffee. Tiny variations in bean blend, roast and grind may lead to terrible coffee. That's why we craft coffee specifically for your French Press. We select naturally sweet coffee beans. We slow roast in small batches for more caramelization. We grind with precision and ship immediately after the roast, so you can unlock French Press Coffee at Peak Flavor with ease.
What To Expect?
Naturally Sweet French Press. We make naturally sweet French press coffee by selecting strictly high grown coffee beans, which are rich in natural sugars such as fructose. When coffee is naturally sweet, you can savor peak flavor without having to add extra sugar or unnecessary calories.
Rich and Creamy French Press. We carefully select coffee beans with an abundance of natural coffee oils. Natural coffee oils contain rich coffee aromas such as caramel, vanilla, and honey. Use a metal mesh plunger and indulge in rich and creamy French press coffee.
Mild French Press Is Sweet On The Stomach. We make French press coffee milder by using only Grade-A, zero defect beans, which our farmers pick when coffee cherries reach peak ripeness. At peak ripeness, acidity in coffee beans is lowest. Picking coffee cherries at peak ripeness provides good coffee intensity, whilst yielding milderFrench press coffee, which is sweet on the stomach.
100% Natural Caramel Taste. We caramelize naturally sweet coffee beans by slow roasting in small batches, only when you order. No added flavors. 100% coffee only. Slow roasting takes more time, more effort, and a little more cost but is necessary to fully develop the natural sugars in our bean blends. It's impossible for large coffee roasters to slow roast industrially in small batches. That's why we use small batch coffee roasting. I love it and still get involved in each roast.
More Caffeine: our morning coffee blends contain 15% more caffeine (vs. Arabica blends) without having a bitter aftertaste. Most coffee lovers get their morning caffeine fix from a fresh brew. We craft our bean blends with a small portion of Robusta coffee beans, which contain more caffeine. Enjoy and get the benefit of a morning kick, without any of the bitterness often associated with caffeine.
No Bitterness. We precision grind coffee beans to 1050 microns with >95% precision, using a professional burr grinder. This type of precision grinding is not possible with conventional home coffee grinders. Precision in grinding avoids bitterness from over-extraction when steeping French press. Say goodbye to bitterness from inconsistent grinds.
Unparalleled Freshness: We take pride in delivering coffee beans that are freshly roasted to perfection, ensuring that each cup is bursting with flavor. We only roast when you order and ship the next day. Expect your mailbox to overflow with that delicious coffee smell, only fresh roasted coffee exudes.
Sustainable Sourcing: Our farmers cultivate coffee for Peak Flavor on mountain plantations in the highlands of Brazil, Honduras, and Vietnam. Peak flavor coffee farming is organic and sustainable. Top quality beans with the highest density are premium priced and provide our farmers with fair, sustainable incomes. As we sell more coffee, we plant new trees for our farmers, making a humble but meaningful contribution to a greener planet.
Environmentally Friendly Packaging: Our airtight packaging preserves coffee freshness, so you can enjoy exceptional flavor every time you brew. Our packaging is recyclable and made with sustainable materials. Our pack sizes avoid food spoilage whilst keeping coffee fresh.
Brew French Press With Ease And Confidence:
Whether you're a seasoned coffee connoisseur or just beginning your coffee journey, Peak Flavor's Coffee for French Press is your gateway to a truly exceptional coffee experience.
We make it easy to get better French press at home. No need for a professional barista or a complicated French press brew guide. No need for expensive specialty coffee from exotic locations. No need for expensive gourmet coffee either. 
Use any of our slow roasted French press coffee blends, ground to precision and simply follow below 3 steps.
For 2 servings, use 20 grams of our pre-ground coffee and 300 grams of hot water. It's good to pre-heat your French press with hot water beforehand.
Bloom your coffee by wetting the grounds for about 30 seconds before you slowly pour the remainder to fill up your cafetière (a fancy word for French press). Place the lid on top and leave it steeping for 4 minutes to get optimal coffee strength.
Slowly push the plunger down and serve immediately.
Why Choose Peak Flavor Coffee for French Press?
When you choose Peak Flavor, you're choosing more than just coffee; you're choosing a passion for perfection. Our commitment to providing the perfect blend, roast and grind, specifically for your French Press sets us apart. Join our community of coffee lovers, who have already discovered coffee for French Press at Peak Flavor. Shop now and experience Peak Flavor.
Discover Coffee for Other Coffee Makers
Shop by Coffee Maker