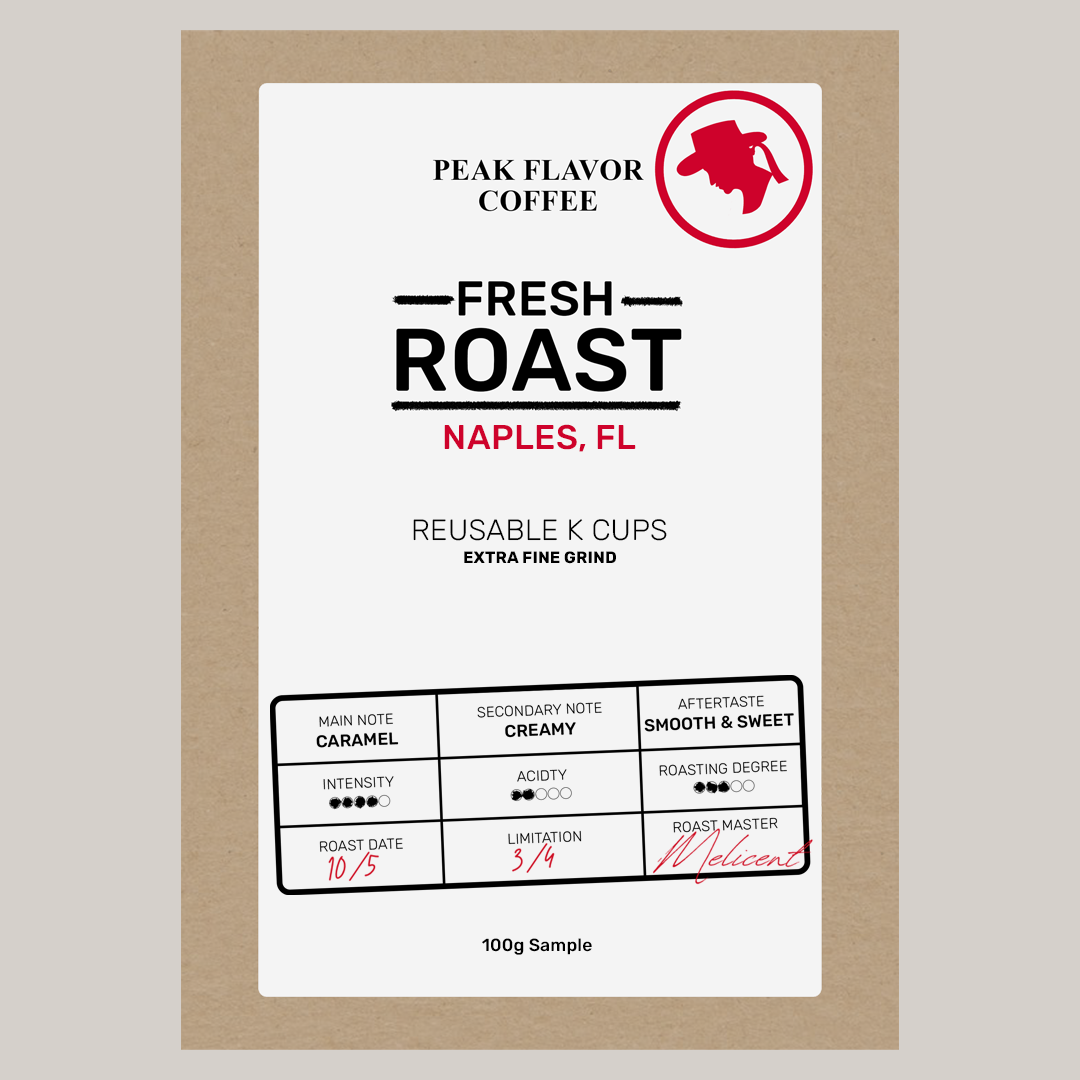 Espresso for Reusable K Cups 100g/10 Espressos
NEW: Discover how we craft fresh roasted, Italian espresso, specifically for reusable K cups. For each order, we slow roast a naturally sweet espresso bean blend for maximum caramel, vanilla and honey flavor. We precision grind the beans, so that your Keurig can extract naturally sweet, Italian espresso from reusable k cups. We roast today & ship tomorrow. Indulge in delicious Keurig espresso at Peak Flavor. Brews 10 Italian espressos. Discover Great Espresso @ Best Value. FREE SHIPPING
Commodity coffee beans in pre-packed K cups might be convenient, but they often yield bitter or sour espresso.
Our naturally sweet espresso blend for Keurig includes 85% Zero-Defect Arabica and 15% Strictly High Grown Robusta coffee beans, sourced from mountain plantations in the highlands of Brazil, Honduras, and Vietnam.
Only at altitudes >2600m do coffee beans grow dense enough to contain enough natural sugars such as fructose, to automatically brew naturally sweet espresso on a Keurig coffee maker. The average density of our beans is >430 mg/cm3. For natural sweetness, our Keurig espresso beans contain >4% sucrose and >0.5% Fructose at minimum.
Robusta beans contain more natural coffee oils and more caffeine than Arabica beans, which make Robusta beans the perfect beans for rich and creamy Keurig espresso, especially in the morning.
Our coffee is 100% organically grown and fairly traded.
Large-scale, industrial coffee roasts may be fast and cheap, but often yield bitter or burnt espresso taste.
For your Keurig to brew authentic Italian espresso with reusable k cups, we employ slow, small-batch, Italian coffee roasting to develop coffee bean sweetness into caramel, vanilla and honey flavors.
Our Italian roast for Keurig espresso lasts >12 minutes. We drop well past first crack at about 220 degrees Celcius or 328 degrees Fahrenheit. We extend the browning phase of our roast for maximum caramelization.
Most Keurig Coffee Lovers prefer Medium-Dark or Dark Roasts.
We refrain from using blond or light roasts for reusable k cups because shorter roast cycles do not have enough time for caramelization.
According to the Coffee Brewing Control Chart, only tiny variations in grind size may result in terrible coffee taste due to over- or under-extraction, causing bitterness.
That's why we recommend using our pre-ground, precision grinds for Keurig's reusable K cups. We grind coffee for reusable k cups with >98% precision to 450 microns, the perfect fit for a reusable K cup with a metal mesh filter.
It's impossible for conventional home coffee grinders to grind with such precision. To achieve this type of precision in the grind, we use professional Burr grinders, like in the grinders used in gourmet coffee shops. That is why we recommend using our pre-ground Keurig precision grinds.
By the time, you brew with a conventional, pre-packaged k cup, the coffee roast in that cup is often more than 120 days old. Bitterness in coffee develops as a result of oxidation. You taste bitterness in k cups when your roast is more than 20 days old. No wonder why most pre-packaged K cups are flavored: to hide the bitterness of an old roast.
At Peak Flavor, we only roast to order and ship out the next day, so you can indulge in fresh roasted Italian espresso made for Keurig. You'll notice your roast is fresh by the coffee smell in your mail box! Its delicious beyond description.
Coffee needs about 7 days to degass and develop Peak Flavor. Our fresh roast delivery guarantees that you'll get your order at home just as it reaches Peak Flavor.
Outstanding "Espresso " Coffee
Rich, creamy, no acid, no bitterness, I use two scoops per reusable k-cup.
Grind was perfect
Really enjoying my "first time" order for my new french press.
Amazing flavor and quality!!!
I under estimated my new espresso 's features - its built-in grinder can output espresso quality fit for for purpose so i ordered the whole beans again (again and again😁). The espresso and cappuccino grounds that I recently purchased prior were EQUALLY amazing. It's just too manual of a process for the automated machine that I have.
Surprised!
I didn't know what to expect from this website. I randomly searched for italian espresso in google and this lead me here. But it turned out great and the flavor was really good. It also gave me a boost of energy without jitters!
The best coffee in the world! Do yourself a favor, and order some! You won't regret it! So easy on the stomach!! Love love love this coffee!!
How We Craft Espresso for Keurig
Unlock Peak Flavor
Select Sweet Beans
We select naturally sweet coffee beans for consistent caramel taste w/o bitterness.
Italian Espresso Roast
We "slow-roast" in small batches to develop caramel, honey and vanilla flavors.
Precision Grind
We grind with precision, so your Keurig consistently extracts naturally sweet espresso.
Fresh Roast Delivery
We roast to order and ship the next day. Your order arrives at Peak Flavor.
A Flavor Profile to Love
Espresso for Reusable K Cups
Espresso for Keurig
Sweet, Mild & Creamy
Peak Flavor Aroma
Caramel, Vanilla & Honey
How to Unlock Peak Flavor with Reusable K Cups?
We Craft Espresso for Keurig
If you're a true lover of Italian espresso and a proud owner of a Keurig coffee maker, you're in for a treat. Say goodbye to mediocre coffee and embrace the world of Peak Flavor Coffee crafted specifically for Keurig's reusable K cups. In this guide, we'll delve into the exquisite benefits of tailoring espresso to a Keurig to satisfy even the most discerning coffee connoisseur.
Why Choose Peak Flavor Coffee for Your Keurig?
1. Naturally Sweet Goodness: When crafting Peak Flavor Espresso for Keurig, we start with the foundation – the beans. We select only the finest high-grown coffee beans, known for their rich natural sugars like fructose. This means that every sip of your espresso will be naturally sweet, eliminating the need for excessive sugar or artificial sweeteners. 
2. Rich and Creamy Delight: One of the hallmarks of a perfect Italian espresso is its rich and creamy texture. We carefully choose coffee beans that are abundant in natural coffee oils, ensuring that your Keurig-brewed espresso feels like a velvety masterpiece with each sip. 
3. Mild and Marvelous: Peak Flavor Coffee is committed to quality. We use Grade-A, zero defect coffee beans, ensuring that only the best, 100% organic beans make it into your cup. Our coffee farmers pick the cherries at their peak ripeness, guaranteeing a mild and marvelous espresso experience that is free from any bitter or unpleasant notes. 
4. The Sweet Symphony of Caramel: If you're a fan of that delightful caramel taste in your espresso, you're in for a treat. We take the art of coffee roasting seriously. To get caramel taste from naturally sweet beans, we slow-roast in small batches. This authentic Italian roasting process caramelizes the beans, infusing your Keurig brewed espresso with a 100% natural caramel flavor that is simply irresistible. 
5. More Caffeine, No Bitterness: We understand that some coffee lovers crave that morning caffeine kick without bitter aftertaste. With Peak Flavor Espresso, you get the best of both worlds – a caffeine boost that's perfectly balanced, leaving no room for bitterness. 
6. Unparalleled Freshness: Freshness is the essence of a great espresso. Our commitment to delivering a fresh roast to order is unwavering. You can recognize a fresh roast by its mouthwateringly delicious aroma. When you open a pack of Peak Flavor Coffee for Keurig, you'll be greeted with the invigorating scent of freshly roasted beans. 
7. Sustainable and Organic Sourcing: We take pride in our sustainable and organic sourcing practices. Our coffee farmers cultivate coffee for Peak Flavor on mountain plantations in the highlands of Brazil, Honduras, and Vietnam. This not only ensures the finest quality beans but also contributes to the preservation of these pristine environments. 
8. Environmentally Friendly Packaging: In our quest for the perfect espresso, we haven't forgotten about the environment. Our commitment to sustainability extends to minimizing our packaging whilst preserving freshness. Our environmentally friendly packaging not only keeps your coffee fresh but also reduces our ecological footprint.
Why Keurig Coffee Lovers Choose Peak Flavor Coffee?
As a true lover of Italian espresso, you understand the significance of the right blend, roast, and grind. Peak Flavor Coffee is crafted with meticulous attention to detail, ensuring that every cup you brew in your Keurig is a work of art. It's not just coffee; it's an experience.
Now, you might be wondering why Peak Flavor Espresso is the ultimate choice for other Keurig coffee lovers. Let's dive into the benefits of Peak Flavor Coffee by reviewing some of their comments. 
Here is what Carolyn D. recently told us about her experience: "I've tried countless brands and blends with my Keurig, but nothing comes close to Peak Flavor Espresso. It's like having a little piece of Italy in my kitchen every morning."
Here is what Sara M said about freshness: "The first time I brewed Peak Flavor Espresso in my Keurig, the aroma alone transported me to a quaint café in Rome. The taste? Sublime. It's become a daily ritual I can't do without." 
Here is what Dean K said about quality: "Quality matters when it comes to coffee. With Peak Flavor, I know I'm getting the best. The beans are sourced responsibly, roasted to perfection, and the result is a cup of espresso that's nothing short of extraordinary." 
Here is what Brian W. said about our fresh roast: "The freshness of Peak Flavor Coffee is unparalleled. When you open that bag and inhale the rich aroma, you know you're about to savor something special. It's like a breath of fresh air for my morning routine."
Brewing Your Perfect Cup of Peak Flavor Espresso with Keurig
Now that you're convinced that Peak Flavor Espresso is the way to go, let's explore how to brew the perfect cup using your Keurig. 
1. Choose the Right Reusable K Cup: To fully enjoy Peak Flavor Coffee, invest in a high-quality reusable K cup. This ensures that the grounds are evenly extracted, giving you a consistently delightful espresso. 
2. Adjust Brew Strength: Most Keurig machines allow you to adjust the brew strength. For a richer and bolder espresso, opt for the "Strong" setting.
3. Use Fresh, Filtered Water: The quality of your water matters. Use fresh, filtered water to brew your espresso. Impurities in the water can affect the taste. 
4. Preheat Your Keurig: Before brewing, preheat your Keurig by running a cycle with just hot water. This ensures that your espresso brews at the right temperature. 
5. Select the Right Size: Keurig offers various cup size options. For a classic espresso shot, choose the smallest cup size. 
6. Enjoy the Aroma: As your Keurig brews your Peak Flavor Espresso, take a moment to savor the irresistible caramel aroma that fills your kitchen. It's a sensory experience like no other.
Conclusion
If you're a Keurig coffee lover looking to elevate your espresso game, Peak Flavor Coffee is your gateway to an unparalleled coffee experience. Crafted with passion, precision, and a dedication to quality, our espresso is a tribute to the art of Italian coffee-making. 
I used to believe that true espresso could only be found in cafes. But with Peak Flavor Espresso for Keurig, I've discovered a whole new world of coffee excellence right in my own home. It's a game-changer. 
So, why settle for ordinary when you can indulge in the extraordinary?Unlock the peak of flavor, the pinnacle of freshness, and the essence of sustainability with Peak Flavor Espresso for Keurig. It's not just coffee; it's an Italian espresso masterpiece, waiting to be brewed in your own kitchen.
Make the switch to Peak Flavor Coffee today and experience coffee like never before. Your Keurig will thank you, and your taste buds will
rejoice. Cheers to the perfect cup of espresso!