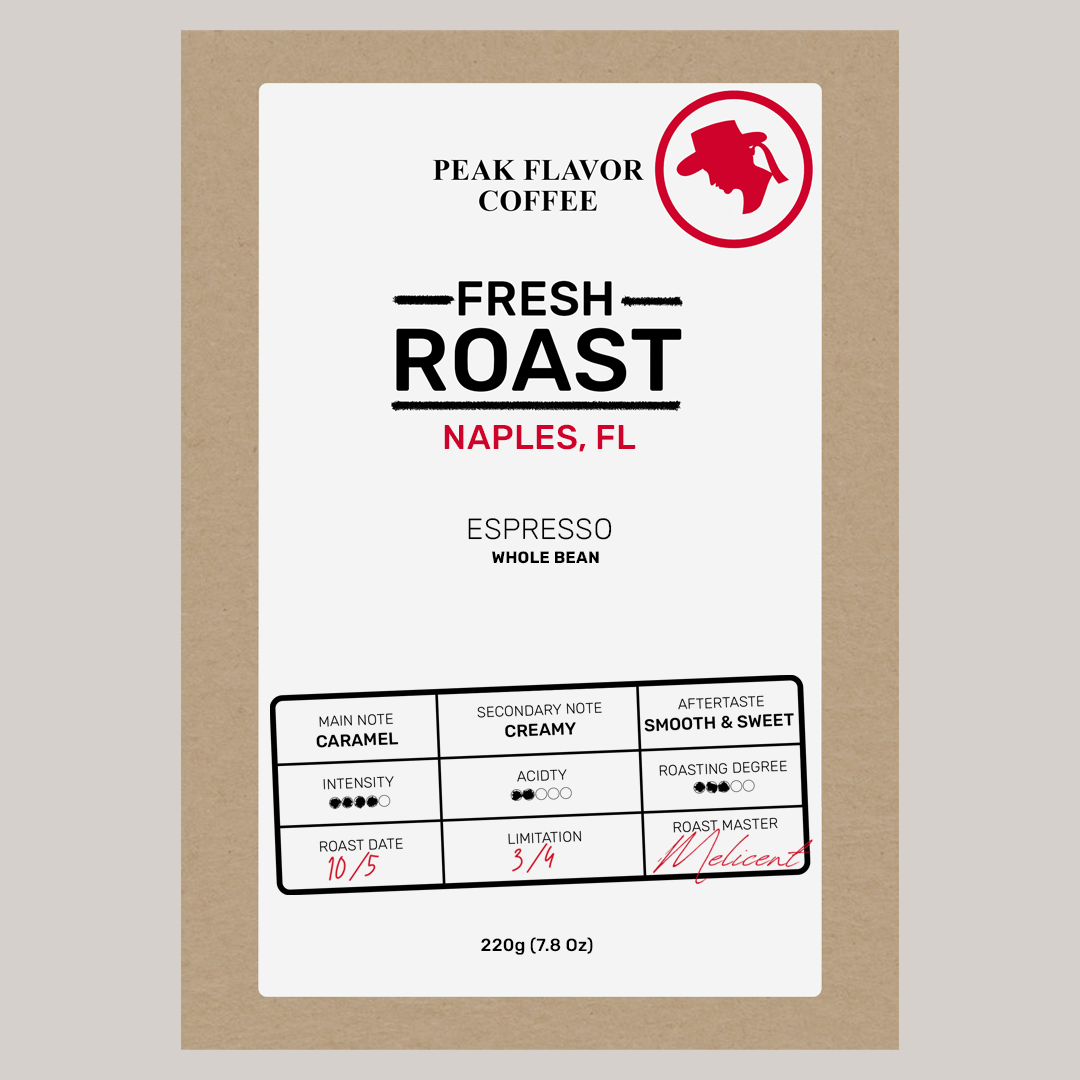 Espresso Whole Beans 220g/22 espressos
📦 Free Shipping from $22.95
Indulge in authentic Italian Espresso as if you are visiting an Italian Cafe in Venice. We craft Italian espresso, just for your espresso machine. We slow roast a blend of naturally sweet espresso beans with extended caramelization and ship the same day. Brew a fresh roasted espresso and enjoy naturally sweet, mild, and creamy Italian espresso at its best or Peak Flavor. Great value @ $0.59 / espresso.
The dilemma of average Cafe Latte. You know the feeling, right? Sipping on a latte that just misses the mark. The culprit? Often, it's the coffee beans.
Most cafe lattes are made with generic, commodity beans from the local grocery store. These beans, while convenient, lack the unique characteristics necessary to create that rich and flavorful experience you crave. They are usually not as good, quickly picked, and lack the subtle tastes that make a cafe latte exceptional.
The Sweetness and Strength Dilemma. When it comes to making espresso for latte that truly sings, the details matter – especially the beans. Not just any bean makes the cut. Many coffee beans blends may be too sour, not sweet enough, or lack a creamy top layer.
Imagine starting your day with a coffee that upsets your stomach because it is highly acidic. Or imagine starting with a latte that lacks flavor and inspiration. This is a daily disappointment for many coffee lovers who haven't discovered the right espresso for latte. It's like a melody played out of tune – recognizable, but not quite satisfying.
Enter Peak Flavor Coffee, where we don't just understand these issues; we've mastered the art of resolving them.
We carefully select our beans from Brazil, Honduras, and Vietnam, like an Italian barista who likes high altitude farms. Why? Because altitude matters. Our beans grow slowly, producing more natural sugars like fructose, resulting in delicious caramel, vanilla, and honey flavors when roasted properly.
Our harvesting process is equally meticulous. We wait for peak ripeness, ensuring the beans are at their lowest in acidity. This not only gives our espresso base an intense yet mild profile but also makes it sweet on the stomach – a crucial aspect for many coffee lovers.
Our unique blend contains organic Arabica beans and a small yet significant portion of premium Robusta beans (15%). It's not just about taste; it's about making espresso for latte creamy and providing required coffee strength when you add milk.
So, why
settle for a subpar cafe latte when you can indulge in the authentic Italian
espresso experience with Peak Flavor Coffee? We've honed our craft specifically
for cafe latte aficionados like you.
With our beans,
you're not just making a beverage; you're crafting an experience. An experience
where every sip is a testament to the quality and care that defines Italian
espresso – and the heart of a perfect cafe latte. Discover the difference with
Peak Flavor Coffee – where every bean is a step closer to cafe latte
perfection.
Large-scale, industrial coffee roasts from famous brands in the grocery store may be cheap, but they often brew bitter or burnt espresso.
So, what is the best roast profile for authentic Italian espresso?
For authentic Italian espresso, we use an Italian roast profile. Slow, small-batch, Italian coffee roasting with extended caramelization develops the coveted caramel, vanilla, and honey flavors in Italian espresso.
Italian roasting is usually "dark" and drops (or stops) well before "second crack" to avoid bitter or burnt aftertaste. Our custom roast of Italian espresso lasts almost 13 minutes, a "life-time", compared to industrial roastring techniques!
Most Italian espresso lovers prefer a (medium) dark roast. We refrain from using blond or light roasts for Italian espresso because shorter roast cycles do not have enough time for caramelization.
Espresso machines use high pressure brewing to dissolve and extract best taste from a bed of extra-fine espresso grinds. Tiny variations in grind size result in bitter or sour espresso due to over- or under-extraction. 
So, what is the right grind size for Italian espresso? 
Although most coffee experts advise buying coffee beans for freshness, we recommend using our fresh roasted precision grinds for Espresso to avoid bitterness. Unlike most other coffee roasters, we roast and ship on the same day, so your espresso grinds will be fresh enough. More importantly, >98% of your espresso grinds will be 350 microns to ensure your espresso machine gets the extraction and taste just right for Italian espresso, macchiato, or Americano. If you prefer to use your espresso for Cappuccino, Latte or Ristretto, explore our finer precision grinds (300 microns with >98% precision).
At Peak Flavor, we realize that tiny variations in grind size dramatically change espresso taste. We believe Grind Size Matters and explains why we use professional burr grinders to achieve the necessary grind precision. We know that it's impossible for conventional home coffee grinders to grind with this precision. so try our grinds and discover the difference for yourself.
By the time you use grocery store coffee in your espresso machine, your roast is usually more than 120 days old. Bitterness in coffee develops because of oxidation. You start noticing bitterness when your roast is more than 20 days old. No wonder why most home espresso needs added sugar, artificial sweeteners, or flavoring: to hide the bitterness of an old roast. In Italy, you will never see anybody use flavoring in an espresso!
That is why we only roast to order and ship the same day. Just like in Italy, we guarantee you can Indulge in fresh roasted espresso within days of the roast, just when your espresso reaches Peak Flavor.
Just like fresh baked bread, you will notice the mouthwatering smell of fresh roasted espresso when it arrives in your mailbox. Ask USPS! 
Any coffee roast needs about 7 days to de-gass and develop Peak Flavor. With our fresh roast delivery guarantee, we are certain you'll get your order at home before it reaches Peak Flavor.
Outstanding "Espresso " Coffee
Rich, creamy, no acid, no bitterness, I use two scoops per reusable k-cup.
Grind was perfect
Really enjoying my "first time" order for my new french press.
Amazing flavor and quality!!!
I under estimated my new espresso 's features - its built-in grinder can output espresso quality fit for for purpose so i ordered the whole beans again (again and again😁). The espresso and cappuccino grounds that I recently purchased prior were EQUALLY amazing. It's just too manual of a process for the automated machine that I have.
Surprised!
I didn't know what to expect from this website. I randomly searched for italian espresso in google and this lead me here. But it turned out great and the flavor was really good. It also gave me a boost of energy without jitters!
The best coffee in the world! Do yourself a favor, and order some! You won't regret it! So easy on the stomach!! Love love love this coffee!!
The Peak Flavor Coffee Process
Step 1: Sweet Beans
For each online coffee order, we select a naturally sweet coffee bean blend
Step 2: Fresh Roast
We "slow-roast" your coffee order Italian-Style, with extended caramelization
Step 3: Custom Grind
We custom grind, so your home coffee maker extracts sweetness w/o bitterness
Column 1
Delivery within 8 days after roasting, when coffee reaches its Peak Flavor
Naturally Sweet Coffee Flavor to Love
Peak Flavor Coffee
Sweet, Mild and Creamy
Flavor Notes
Caramel, Honey and Vanilla
Why Espresso in Italy Tastes Better?
Espresso Crafted for Peak Flavor
With the right coffee, pressure brewing with an espresso machine dissolves and extracts unique and rich flavors unlike any other coffee maker. But only if you use the right coffee beans, roast and grind. Tiny variations in bean blend, roast and grind size may lead to terrible espresso flavor. That's why we craft Italian espresso just for your espresso machine. 
For each espresso order, we select naturally sweet espresso beans. We slow roast in small batches according to an Italian roasting profile for more caramelization. We grind with 98% precision and ship on the day of the roast, so your espresso machine can automatically unlock Peak Flavor for your favorite espresso drink.
Why Italian espresso tastes better?
Anybody who loves espresso can agree that Italian espresso is the quality standard for good coffee world-wide. So, what makes Italian espresso so much better?
Naturally Sweet Coffee Beans - Italians use strictly high-grown, specialty beans from the highlands of Brazil, Honduras, and Vietnam. At high elevations, coffee beans grow a little slower but develop more natural sugars such as fructose. At Peak Flavor Coffee, we take our cue from Italian coffee culture and use the same beans.
Abundant Espresso Crema – A typical characteristic of good quality Italian espresso is a thick layer of crema, the foam on top of fresh brewed espresso. To get abundant espresso crema, Italians use an espresso bean blend with a small portion of high-quality Robusta beans. Although organic Arabica quality is the main bean type for our Italian espresso blends, we add some Robusta, because Robusta beans are rich in natural coffee oils. Natural coffee oils are the key to getting more espresso crema.
Mild & Sweet on the Stomach: Italian espresso is intense but typically quite mild on the stomach. At Peak Flavor, we get mildness by using only Grade-A, zero-defect beans, which our farmers pick when coffee cherries reach peak ripeness. At peak ripeness, acidity in coffee beans is low. Harvesting coffee cherries at peak ripeness provides good espresso intensity, whilst yielding mild espresso. You'll notice when you try!
100% Natural Caramel Taste. We slow roast in small batches according to an Italian roasting profile, specifically for caramelized espresso. The roasting profile yields a (medium) dark roast. More importantly, Italian espresso roasting maximizes the roasting phase during which caramel is formed from natural sugars in coffee beans. As a result, our espresso roast has a rich caramel, vanilla, and honey flavor notes. 100% Natural. Slow, Italian-style roasting takes a little more time, more effort, and a little more cost but is necessary to fully develop the natural sugars in our bean blends. We Love it. I am sure you do too.
Precision Grinding for Espresso: We precision grind coffee beans to 300-350 microns with >98% precision, using professional burr grinders. This type of precision grinding is impossible to reach with conventional home coffee grinders. Precision in grinding avoids bitterness from over extraction. It's one of the secrets of naturally sweet Italian espresso. Say goodbye to bitterness with a precision grind. Precision grinding also allows us to grind an Italian Espresso roast for Cappuccino and Latte (300 Microns) or for Espresso, Macchiato, Ristretto or Americano. Learn more about precision grinding for your favorite coffee drink in below.
Fresh Roasted Espresso:We take pride in delivering Italian espresso beans that are freshly roasted to perfection, ensuring that each espresso has abundant crema and is bursting with flavor. We only roast when you order and ship the same day. Expect your mailbox to overflow with that delicious coffee smell, only fresh roasted coffee exudes.
Sustainable sourcing: Our farmers cultivate their coffee beans for Peak Flavor on mountain plantations in the highlands of Brazil, Honduras, and Vietnam. Peak flavor coffee farming is organic and sustainable. Top quality beans with the highest density are premium priced and provide our farmers with fair, sustainable incomes. As we sell more coffee, we plant new trees for our farmers, making a humble but meaningful contribution to a greener planet.
Environmentally friendly packaging: We minimize packaging whilst preserving roast freshness, so you can enjoy exceptional flavor every time you
brew. Our packaging is recyclable and made with sustainable materials. Our pack sizes avoid food spoilage whilst keeping coffee fresh.
Precision Grinds for Different Espresso Drinks:
Espresso is the base for some of the most popular coffee drinks, like cappuccino, latte, macchiato, ristretto, and Americano. Each espresso drink has its own recipe. But did you know that each espresso drink requires that you adapt the grind size for optimal taste? Here is a some helpful information about what grind size are best for your favorite coffee drink:
Espresso for Cappuccino: We grind to 300 microns with >98% precision to get your espresso machine to dissolve and extract more coffee intensity. As you will be adding milk and milk-foam to make Italian cappuccino, a little extra intensity enables you to have Italian espresso flavor, also after you add the milk.
Espresso for Latte: Like Espresso for Cappuccino, we grind Espresso beans for Latte to 300 microns with >98% precision too. Because the amount of milk in a Latte or Latte Macchiato is generally a little more, we advise to always use a double shot of Italian Espresso to make the best Latte.
Espresso for Macchiato: Our precision grinds for Macchiato are 350 microns with >98% precision, a little less fine than for cappuccino and latte. Italian Macchiato only requires a dollop. of milk foam on top of the espresso crema. Hence, there is no need to add to the perfect intensity of an Italian espresso.
Espresso for Ristretto: Italian Ristretto requires the same precision grind as espresso for latte or cappuccino. In the case of Italian ristretto, however, your espresso machine will automatically adjust to the finer grind by pressure brewing with less water. With a fresh roast, the amount of crema will be as thick as the layer of ristretto underneath.
Espresso for Americano: Italian Americano requires the precision grinds of an espresso. When ordering Americano in Italy, expect to get a double espresso, diluted with the same amount of hot water. It's the Italian version of American filter coffee. It is not uncommon for filter coffee lovers to prefer Italian Americano over their morning drip coffee.
Brew Italian Espresso With Ease:
Whether you're a seasoned espresso connoisseur or just discovering authentic Italian espresso, Peak Flavor's Espresso is your gateway to authentic Italian coffee culture without the need for a 3-week vacation in Europe. By designing our coffee specifically for your espresso machine, we make it easy to get Italian espresso for your favorite espresso drink at home, be it cappuccino, latte, macchiato, ristretto, or Americano. No need for a professional barista or a complicated brew guide. No need for expensive specialty coffee from exotic locations. No need for expensive gourmet coffee either.
Use any of our slow roasted Italian espresso blends, ground to precision and simply follow below 2 steps:
From our Italian coffee collection, select Italian espresso for Cappuccino, Latte, Macchiato, Ristretto or Americano for your espresso machine.
Fill your portafilter with 12-24 grams of Italian espresso
grinds and press the button for a single or a double shot.
Explore in a little more detail about what Melicent says on: How to make Italian Espresso?
Why Choose Peak Flavor Espresso? 
When you choose Peak Flavor, you're choosing more than just coffee; you're choosing a passion for perfection. Our commitment to providing the perfect blend, roast, and grind, specifically for your espresso machine to fit your favorite espresso drink sets us apart. Join our community of coffee lovers who have already discovered Italian espresso at Peak Flavor.
Shop Italian Espresso now and experience the Peak Flavor Difference.