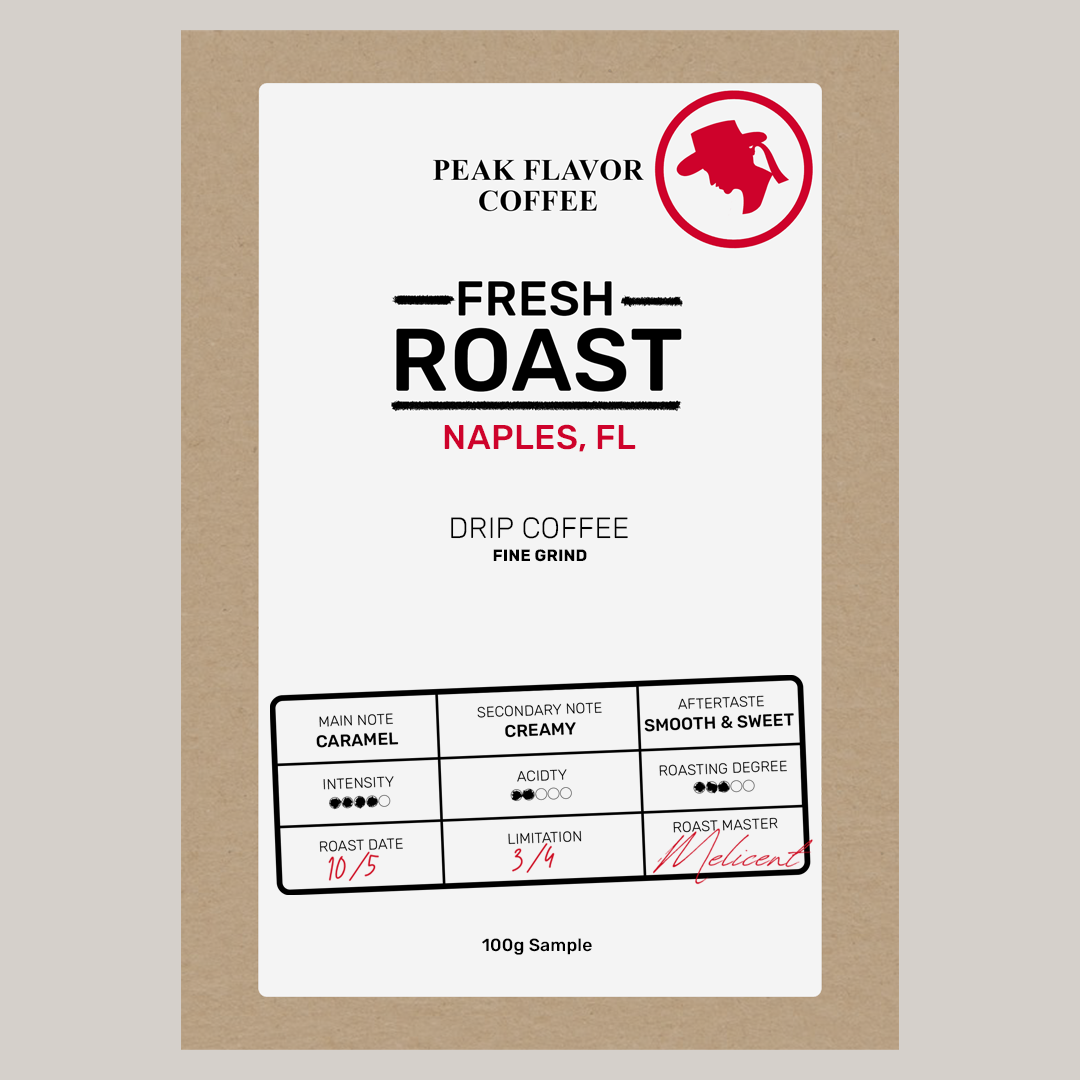 Drip Coffee 100g/10 Cups
📦 Free Shipping from $22.95
NEW for drip coffee lovers: we craft coffee specifically for filter coffee machines by slow-roasting a naturally sweet bean blend for more caramelization. We grind with precision, so you can unlock delicious Peak Flavor drip coffee. Discover Great Drip Coffee @ Best Value. Roasted Fresh Today. FREE Shipping Tomorrow.
Grocery store coffee for your morning drip might be convenient but often lacks quality and tastes bitter or sour.
So, what is the right coffee bean blend for filter coffee?
Our custom drip coffee blend includes 85% Zero-Defect, Specialty Arabica beans and 15% Strictly High-Grown Robusta coffee beans. We carefully select and source our coffee beans from mountain plantations in the highlands of Brazil, Honduras, and Vietnam.
Only at altitudes >2600m do coffee beans grow dense enough to contain more natural sugars for sweeter drip coffee. Average density of our beans is >430 mg/cm3. For natural sweetness, our drip coffee beans contain >4% sucrose and >0.5% fructose.
We request our famers to pick coffee beans at peak ripeness, when coffee cherries contains a minimum of acidity. As a result, our drip coffee is low in acidity and mild on the stomach.
Robusta beans generally contain more natural caffeine than Arabica beans, which make them the perfect fit for drip coffee in the morning.
Our coffee is 100% organically grown and fairly traded.
Large-scale, industrial coffee roasts from famous brands in the grocery store may be fast and cheap, but they often brew bitter or bitter drip coffee.
What is the best roast profile for drip coffee?
For naturally sweet drip coffee, we use slow, small-batch coffee roasting to develop bean sweetness into natural caramel, vanilla and honey flavors.
Our custom roast for drip coffee lasts >12 minutes. We drop well past first crack at about 220 degrees Celcius. We extend the browning phase of our roast for optimal caramelization.
Most Drip Coffee Lovers prefer Medium-Dark or Dark Roasts. We refrain from using blond or light roasts for Drip because shorter roast cycles do not have enough time for caramelization.
Never buy any coffee grind at the grocery store. Great filter coffee requires a precision grind. Tiny variations in grind size may result in terrible coffee taste due to over- or under-extraction.
What is the best grind for drip coffee?
We recommend using our pre-ground precision grinds for drip coffee. We grind coffee for filter coffee with >98% precision to 750 microns, the perfect fit for your drip coffee maker. To grind coffee with this type of precision, we use professional burr grinders.
It's not possible to grind with this precision with a standard home coffee grinder. That is why we recommend using our pre-ground drip coffee grinds.
By the time, you brew filter coffee with a brand from the grocery store , your roast is more than 120 (!) days old. Bitterness in coffee develops as a result of oxidation. You taste bitterness in filter coffee when your roast is more than 20 days old. No wonder why most grocery store drip coffee needs flavoring: to hide the bitterness of an old roast.
At Peak Flavor, we only roast to order and ship out the next day, so you can indulge in fresh roasted drip coffee, just when it reaches Peak Flavor.
You'll notice your roast is fresh by the coffee smell in your mail box! Its delicious beyond description.
Coffee needs about 7 days to de-gass and develop Peak Flavor. With our fresh roast delivery guarantee, you'll get your drip coffee order at home before it reaches Peak Flavor. Indulge in our fresh roast!
Crafting Peak Flavor Coffee
How We Craft Drip Coffee
Select Sweet Beans
We select naturally sweet coffee beans to fit a drip coffee brewing.
Slow Roast
We slow roast in small batches to develop natural sugars into caramel, honey, and vanilla flavors
Precision Grinds
We grind with precision, so your drip coffee maker extracts naturally sweet coffee without bitterness.
Fresh Roast Delivery
We roast to order & ship the next day. We deliver when your coffee order reaches Peak Flavor.
Peak Flavor Coffee
Sweet, Mild & Creamy
Notes & Aromas
Caramel, Honey & Vanilla
9 Reason To Love Peak Flavor Coffee
Discover Peak Flavor: Crafted Just for Your Drip Coffee Maker!
"Isn't all coffee the same?"
Ever wondered what coffee to buy for a Drip coffee maker? I often stand in front of the grocery store coffee shelf, searching for a brand that fits my filter coffee machine. When I lived in Europe, choosing the right coffee was easy. Good quality coffee brands inform you for what coffee machine they blend, roast, and grind. As a result, brewing great drip coffee was easy: never bitter, never sour, never burnt. Instead, European drip coffee is naturally sweet, mild, and always fresh roasted. 
At Peak Flavor Coffee, we understand the nuanced notes and flavors that true lovers of drip coffee crave. It's not just about a caffeine kick – it's a sensory experience that envelops your senses and starts your day right. If you're in search of that rich, clean, and truly unparalleled cup of drip coffee, you're in the right place!
We craft specifically for your drip coffee maker. For each filter coffee order, we blend, roast and grind for an automatic filter machine. Our drip coffees provide a rich and clean sensory experience, with naturally sweet caramel, honey & vanilla aroma, which most drip coffee lovers crave.
Why Peak Flavor Coffee Stands Out in the World of Drip: 
Feeling curious? Let us walk you through the elements that set our coffee apart. 
1. Nature's Sweetness in Every Sip: Our beans are sourced from the mountain plantations in the highlands of Brazil, Honduras, and Vietnam. Mountain plantations in these regions have coffee beans blessed with high levels of natural sugars like fructose. So, when you brew a cup of our coffee, you're met with a naturally sweet caramel, honey, and vanilla aroma. Imagine indulging in that with your morning toast!
2. Mild and Gentle: If your stomach often rebels after a cup of coffee, we have good news! Our beans are specifically chosen for their low acidity, ensuring your coffee experience is not just delicious but also gentle on the stomach. Our farmers pick coffee cherries at peak ripeness, when acidity in coffee beans is at its lowest level. Picking coffee cherries at peak ripeness provides good coffee intensity, whilst yielding milder drip coffee.
3. Caramelization Magic: By slow roasting in small batches, we caramelize coffee beans, enhancing the natural flavors of caramel, vanilla, and honey. The richness of an authentic Italian coffee roast is tangible, and you might just find yourself pouring a second cup in no time. Slow coffee roasting takes more time, more effort, and a little more energy but is necessary to fully develop the natural sugars in our drip coffee blends. It's impossible for large coffee roasters to slow roast industrially because it is expensive. That's why we use small batch coffee roasting instead. I believe the secret to making better drip coffee is in fitting the coffee roast to the bean blend, which is why I choose to still get involved in every coffee roast.
4. Energize Your Mornings: Drip coffee shouldn't be about just flavor; it should also kickstart your day. Our drip coffee blends have +30% more caffeine, which not only wakes you up but also aids in metabolism and digestion. 
5. Pure, Clean Brew: Bad cholesterol from lipids in coffee? Not in our cup! We meticulously select Grade-A, zero defect Arabica beans. They're low in lipids, ensuring your coffee is not just tasty but also heart friendly.
6. Bitterness is Not Our Language: The precision with which we grind our beans ensures you won't detect an iota of bitterness. We know that tiny variations in grinding can alter the taste. To get the grinds for drip coffee just right, we use professional Burr grinders and grind with >98% precision to 750 microns. This type of precision grinding is impossible to achieve with a conventional home coffee grinder. That's why we recommend to use our pre-ground fresh roasts. Don't worry, we've got grinding and freshness covered! 
7. Freshness Redefined: Nobody likes stale or bitter coffee from an old roast. And remember, most grocery store coffee was roasted 120 days ago! At Peak Flavor Coffee, we roast only when you order. The beans are then shipped out the next day. This means your coffee reaches you just when it's at its peak flavor. You'll be brewing the freshest roast in town! Notice how we print the roast date on the front of each order. Its the best way for you to know your roast is fresh.
8. Doing Our Bit for the Planet: We believe in giving back, not just to our coffee lovers but also to the environment. Our packaging is recycled and minimal. When you sip our coffee, know that the earth is nodding in approval. 
9. Ethical Choices: Sustainability is not just a buzzword for us. Our coffee beans are sourced organically and traded fairly, ensuring our farmer families get their fair share.
Why Our Drip Coffee Is Simply the Best for Your Filter Coffee Experience: 
With Peak Flavor Coffee, we're not just offering coffee; we're offering an experience. Our dedication to crafting the perfect blend for drip coffee makers means you're getting a cup that's been optimized for your brewing method. Our blend, roast, and grind have all been tailored specifically for automatic filter coffee. This precision and care translate into a coffee that's unparalleled in its richness and depth.
Join the Peak Flavor Coffee Revolution: 
To all the true drip coffee lovers out there, we invite you to indulge in the Peak Flavor Drip Coffee experience. We're not just another brand on the grocery store shelf; we're your fellow coffee enthusiasts striving for that perfect cup every morning. So, come on in, let's share a virtual coffee chat, and embark on this flavorful journey together. 
Let your drip coffee maker meet its perfect match. Dive into the world of Peak Flavor Coffee and redefine your mornings. Cheers to richer, cleaner, and truly flavorful mornings! ☕
P.S. Don't forget to spread the love. If our coffee makes your mornings brighter (we're sure it will!), do share the joy with fellow drip coffee aficionados. They'll thank you, and so will we!