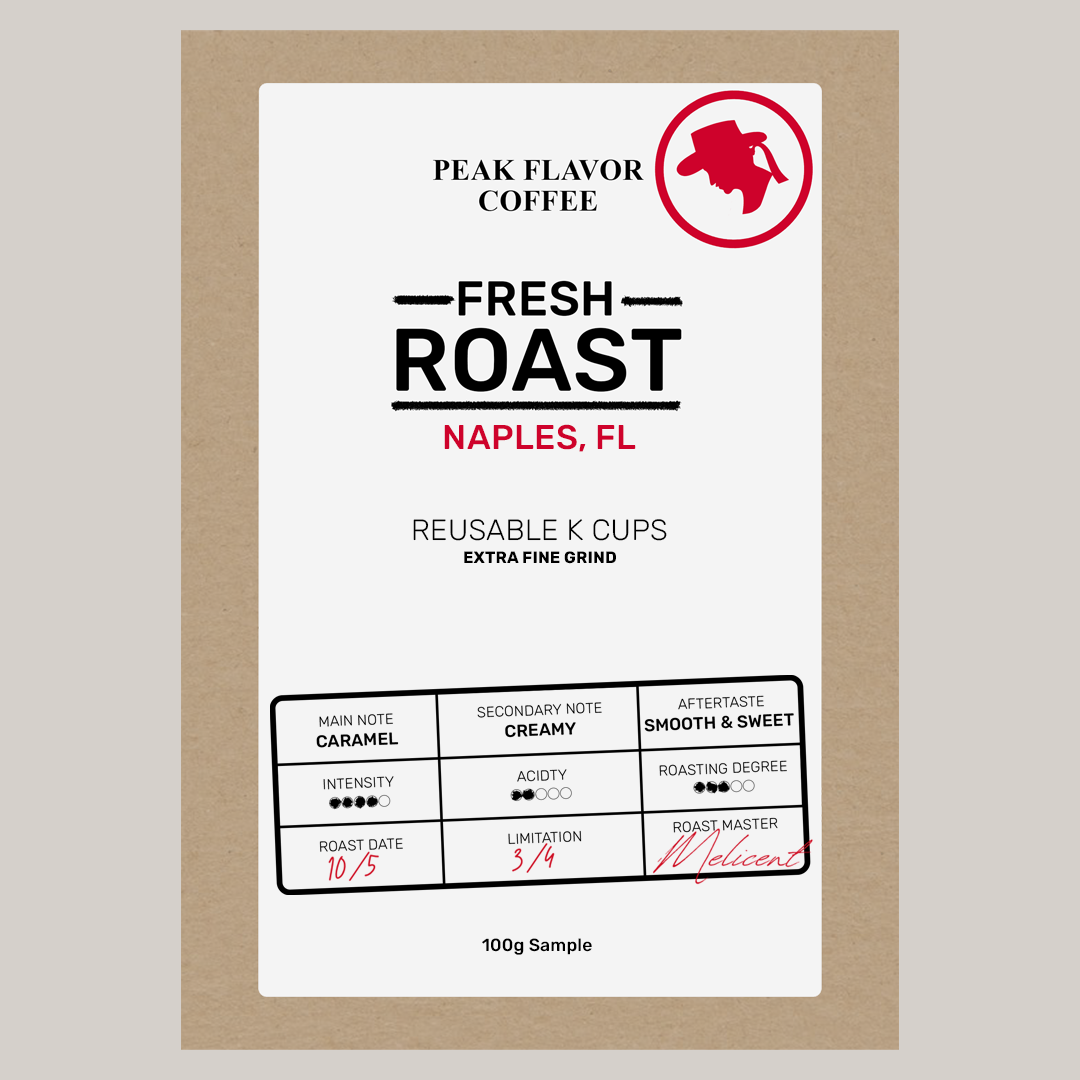 Reusable K Cups – Extra Fine Grind (100g) ~ Starter Pack
NEW: Fresh roasted coffee for reusable K cups. Brew naturally sweet, Italian Espresso with your Keurig coffee maker. We personalize our Italian coffee roast, specifically for reusable K cups. We roast fresh when you order and deliver within 8 days of the roast, so you can enjoy reusable K cup espresso at its best or Peak Flavor. Brews 8 Italian espressos.
Awesome coffee! Very fresh!
Love this coffee and supporting a small business (rather than Starbucks)! :-)
Not a fan
Didn't like this particular one
A little bit of heaven
Fabulous coffee with an aroma and taste to die for!!!!
greatGreat
PeakPeak Flavor Coffee is like a warm bath on a cold morning-refreshing! Flavor Coffee is like a warm bath on a cold morning-refreshing!
Very Good, Mild Coffee
I enjoyed the sample I received very much. The coffee smelled and tasted great, and was very pleasant to drink. The coffee was low acidic, and had a mild, smooth taste. It worked very well with my Keurig. I would recommend and purchase this again.
Indulge in naturally sweet Italian espresso. At Peak Flavor, we roast a naturally sweet custom coffee bean blend, using Italian coffee roasting for more caramelization. Our Extra fine grind will help your espresso machine extract best or Peak Flavor. 
→100% organic coffee beans
For this authentic Italian espresso, we use a naturally sweet organic Arabica coffee bean blend, grown on fair trade coffee plantations in the mountains of Brazil, Honduras, and Vietnam.
The Peak Flavor Coffee Process
Step 1: Sweet Beans
For each online coffee order, we select a naturally sweet coffee bean blend
Step 2: Fresh Roast
We "slow-roast" your coffee order Italian-Style, with extended caramelization
Step 3: Custom Grind
We custom grind, so your home coffee maker extracts sweetness w/o bitterness
Column 1
Delivery within 8 days after roasting, when coffee reaches its Peak Flavor